Masterclass com Eduardo Angel
Local
Q.2.4
Destinatários
Exclusivo para Licenciatura em CVCM, Fotografia e Mestrado de Estudos Cinematográficos
Descrição
09h00 – M3 – 1 Person Crew approach
11h00 – M1 – Masterclass – Storytelling Building Blocks
Horário
Bio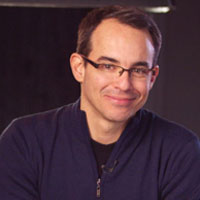 Eduardo Angel
Is an Emmy Award-winning Visual Storyteller, Technology Consultant and Educator. Holding an MFA in Photography from the Savannah College of Art and Design (SCAD) and a Bachelor of Architecture from Los Andes University, Eduardo has spoken at events like TED, NAB, Photokina, and has taught at the leading photography and filmmaking programs around the world.
Eduardo cofounded The Digital Distillery, a New York-based production company, and has produced popular filmmaking courses on Lynda.com. His book "Filmmaking Essentials for Photographers" is among Amazon's top 50 recommendations. Eduardo has been an official Beta Tester for Adobe, Panasonic, and Sony as well as Technical Consultant for Canon USA.
Eduardo publishes his thoughts on technology, photography, and cinema on 1personcrew.com, eduardoangel.com and on a wide variety of trade publications.
Selected clients include: Adobe, Adorama Pro, Avon, Benro, B&H Photo, Brooklyn Museum of Art, Canon U.S.A., Chicago Architecture Foundation, Cinevate, Doyle, Fashion Institute of Technology, Future Media Concepts, Gulf Photo Plus (Dubai), Hasselblad, HOW Design Conference, International Center of Photography, Japan Society, Lynda.com, McCann Erickson, Mamiya/Leaf, New York Magazine, NAB Show, New York Times, Panasonic North America, Panasonic Middle East, Photo District News, PhotoPlus Expo, Photokina (Germany), Savannah College of Art and Design, School of Visual Arts, Sigma, Sony, TEDx, Tether Tools, Tenba, Time Inc. Digital, Verse, The World Wide Fund (WWF), Universidade Lusófona, and X-Rite, among many others.